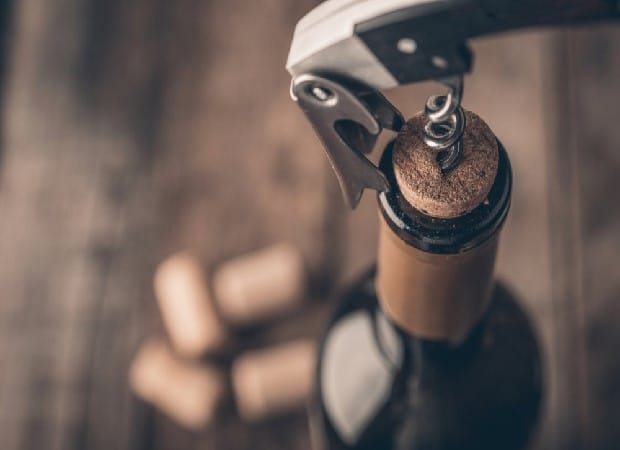 "God only had water, but man made wine"
Victor Hugo
"Wine has the power to fill the soul with all truth, with everything
knowledge and philosophy "
Bossuet
"When my glass is empty, I pity him
When my glass is full, I empty it "
Raoul Ponchon, poet
Le wine is a alcoholic drink born from grape juice, whose sucre natural turned into alcohol by fermentation.
Red, rosé or white, wine belongs intimately to Western civilization; since his birth he has participated in both religion and Party.
History: Legends and history surround the origins of wine. The vine (Vitis vinifera) is an intractable liana, traces of which have been found in the Middle East in fossils dating from the beginning of the Tertiary era. But, in order to have wine, it was necessary to wait for the first winemaker have the idea of ​​pruning this vine to obtain bigger grapes. Bacchus did not invent wine; it was most likely born in the Near East, from experience and techniques passed down from generation to generation, 5 or 000 BC. J.-C.
The wine gradually gained the West and the Mediterranean. The great civilizations contributed to the development of the culture of the vine and the wine making. We found in Our, Mesopotamia, a panel representing a scene of libations. The Egyptians used wine in their funeral rites some 3 BC. As for the Bible, it makes many allusions to it.
In Homer's time, wine was already widely consumed; he also appears in the Iliad and in the Odyssey. With the expansion of the Greeks, the vine continued its path towards Sicily and Campania. Later, the Romans planted it in all the countries of their immense empire. They proved to be remarkable winegrowers and gave a tremendous boost to viticulture and winemaking methods.
The vineyards of the regions that will become France experienced a happy period with the Gauls. They invented the barrel, which ended up replacing the amphorae of Antiquity. Long Roman, wine became Christian from the beginning of the Middle Ages; the monastic orders were its greatest propagandists. Mass wine is at the origin of the great French vineyards, in particular that of Burgundy, which owes everything to the Cistercians.
In the south, the Bordeaux vineyard owed its success to the English and the Dutch, fond of Gironde wines. In the XNUMXth century, its extension allowed the discovery of the fabulous lands of the Médoc, giving wines promised to world success. With the mastery of the manufacture of glass, making it possible to obtain more solid bottles, exports experienced a tremendous development.
However, from 1864, phylloxera marked a serious halt. This insect from America left the French vineyard bloodless. No treatment overcoming it, we found the miracle solution by grafting the French vine on rootstocks of American origin resistant to the epidemic. Slowly, the vineyard and its grape varieties are reconstituted (See: Grape varieties from A to Z).
Today it covers 884 ha and produces an average of 000 million hectoliters of wine per year, which fall into four categories according to their origin and quality.
- Controlled designations of origin (AOC): Created at the beginning of the 1935th century, the AOCs have been dependent since XNUMX on the National Institute of Designations of Origin. Each of them is defined by a parcel delimitation, by a grape variety, by cultivation and vinification methods and by the analytical characteristics of the wines. The AOCs, which are subject to a tasting test, bring together all the best wines from France. UAOC can concern an entire region (Burgundy), a municipality (Meursault) or a cru (romanée-conti).
- Designations of origin for delimited wines of superior quality (AOVDQS): These denomination of origin wines are produced in regions with less potential than the AOCs.
- Country wines: These wines obey specific regulations concerning yields, the use of certain grape varieties, alcohol content or volatile acidity. They are under the control of the National Interprofessional Office for Wines.
- Table wines: These wines intended for current consumption must only meet a few precise standards concerning the alcoholic degree (8,5 or 9% Vol. Minimum), acidity and grape variety. They can be "French table wine" or "European Community wine" if they come from a blend of wines from different countries.
- Elaboration: White, rosé or red, it is the color of the wine that governs the vinification technique.
In the majority of cases, when we want to obtain red wine, the grapes are very often destemmed. The berries are then crushed to release part of their juice before being placed in vats, where fermentation takes place. The transformation of sugar into alcohol under the action of yeasts lasts from 6 days to several weeks depending on the vineyard and the style you want to give to the wine. At the same time, the maceration of the grape skins and the juice gives the red wine its color and tannins.
Le White wine can be made from white or red grapes with white juice. There are many types of white wine making. In the most common, the grapes are destemmed, then pressed, and the juice immediately sent to the vat where it ferments thanks to the addition of yeast.
In recent years, other techniques have been developed, such as pre-fermentation maceration of the skins to extract the maximum amount of aromas or fermentation in barrels, a method reserved for great wines.
As for rosé wines, they are obtained by intermediate processes between "red" and "white" vinification. Thus, rosé can be produced either by direct pressing of a red grape variety, or by maceration for a few hours before pressing.
Depending on the region, the wines can come from a single grape variety (Chardonnay or Pinot Noir in Burgundy) or by blending several grape varieties, as in Bordeaux. Only the greatest wines undergo aging in oak barrels, which gives them finesse and elegance.
Choice of a cellar: The cellar appears as the natural habitat of wine. Indeed, while some wines can be drunk quickly, others require a few years of aging to reveal their qualities.
However, modern buildings do not always meet the conditions of an ideal cellar. On the other hand, wines are not as fragile as they usually are, even if they do not withstand extreme conditions such as excessive heat, humidity or dryness, vibrations and odors.
However, a good cellar must meet certain conditions which ensure good aging of the wines. It must be in the basement, in the dark, because wine fears the light which makes it age prematurely. It must be sufficiently humid (70%) to preserve the quality of the corks, which could dry out. A temperature between 12 and 15 ° C must be ensured throughout the year. To protect the health of the wines, it is also necessary to avoid storing in the cellar products which give off strong odors such as paint, cardboard boxes or vegetables, liable to infiltrate through the cork. As for shakes, even slight, they are the greatest enemy of wine.
To solve insoluble problems, there are apartment cellars, mounted on shock absorbers to avoid vibrations, which provide wines with perfect temperature and humidity.
The lifespan of a wine depends on its terroir, the grape variety (s) that compose it, the vinification methods, the aging and the quality of the vintage. Thus, a wine made with tannic grape varieties, aged in new oak barrels, will need more time to reach its peak than a fruity wine that has only known the vat. Also, the moment when a wine will give the best of itself can only be defined by averages: from 8 to 20 years for a great Bordeaux, from 6 to 15 years for a red Burgundy, from 5 to 10 years for a white burgundy, from 2 to 5 years for a Beaujolais cru. As for champagnes, with some exceptions, they gain nothing by staying in the cellar.
Service and tasting: The service of the wines, without being necessarily formal, however requires a little attention and the respect of a few simple rules. If young wines do not require special consideration, on the other hand, old bottles should be treated with respect. Before the invention of central heating, red wines had to be "chambered": leaving the cellar between 12 and 13 ° C, they thus gained a few degrees before being served. Today, the temperature in apartments often reaches 20 ° C, and there is no need to "room" them. This does not prevent each type of wine from being tasted at the right temperature which highlights it.
Fullerenes white wines Dry are served between 8 and 12 ° C, sweet wines between 6 and 9 ° C. The red wines aromatic and young require a temperature of 12 to 14 ° C, burgundy from 14 to 17 ° C, bordeaux from 16 to 18 ° C. Finally, the champagne must be opened between 8 and 9 ° C.
Settling is still a delicate operation. Putting the wine in a carafe eliminates the deposit and oxygenates it to develop its aromas. While decanting for a few hours is recommended for young tannic wines, it can be disastrous for old and fragile wines. In this area, experience and common sense are the best advisers.
Food and wine pairing : Marry a wine and a dish is an always exhilarating but often random adventure. The perfect match requires modesty, intuition and experience so that the "third taste" is born, which will merge the aromas and flavors of food and wine.
The following proposals have only one goal: to open up avenues on the path to gluttony. They represent both the great tradition and more modern ideas.
- White wines
alsace: snails, pie with onion, pheasant with cabbage
white burgundy: ham with parsley, fried sole, shellfish
great white burgundy: asparagus with mousseline sauce, chicken in a bladder, monkfish with vegetables, shellfish in sauce;
bordeaux blanc: oysters, Basque fish, mackerel in White wine
Great white bordeaux: American lobster, grilled sea bass, sweetbreads with cream
white Loire Valley: seafood platter, pike in white butter, grilled andouillette
sweet wines: foie gras, puff pastry with Roquefort, chicken in curry.
dry champagne: smoked salmon, roasted scallops, fowl in cream.
- Red wines
Beaujolais: hot sausage, marengo veal, hotpot cabbage
red burgundy: duck with olives, coq au vin, old-style beef aiguillette
Grands Crus de Bourgogne: veal kidney with shallots, roasted woodcock, beef tenderloin with morels
bordeaux red: duck with turnips, spring navarin, grilled steak
Grands Crus de Bordeaux: English-style veal liver, grilled rack of lamb, roasted partridge
Côtes-du-Rhône du Nord: hare à la royale, venison fillet, beef fillet with truffles
Côtes-du-Rhône du Sud: cassoulet, confit, potatoes Sarladaise, Provençal stew - val-de-loire: stew,
grandmother's veal chop, rack of pork baked potatoes
red natural sweet wines: Bleu d'Auvergne, chocolate cake.
- Rosé wines.
cold cuts, grilled fish, melon with ham
Wine vocabulary : Professional tasters and enlightened amateurs sometimes use a technical vocabulary when talking about wine. Here are the most common terms.
(See also the Dictionary of Organoleptic Terms).
- Acerb: both harsh and sour.
- Amber: White wine old which has acquired a golden color like that of amber, due to the oxidation of its coloring matter; for a young wine, this color is a defect.
- Aroma: specific smell that each grape variety communicates to the resulting wine; especially noticeable in young wines, as it tends to fade with age.
- Astringent: too loaded with tannin, which gives a feeling of harshness; this character diminishes with age.
- Corked: which tastes like a cork (musty); this defect, which makes the wine undrinkable, comes from a cork disease.
- Bouquet: all the olfactory qualities acquired by the wine during its aging.
- Gloss: perfectly limpid.
- Character: clearly marked and easily recognizable qualities of a wine.
- Fleshy: which has body, that is to say which gives the impression of filling the mouth.
- Full-bodied: both full-bodied and fleshy.
- Full-bodied: rich in alcohol, well colored and of marked character.
- Flowing: fresh, pleasant to drink, but low in alcohol.
- Short: which does not leave a lasting impression on the palate.
- Crust: old red wine whose deposit is stuck inside the bottle and which should be decanted.
- Distinguished: very high class.
- Sweet: which contains a certain proportion of sugar not transformed into alcohol.
- Hard: lacking in charm, due to excess tannin or acidity; this defect sometimes disappears with age.
- Elegant: fine and racy.
- Cozy: soft and velvety because it contains glycerin (by-product of alcoholic fermentation).
- Blossoming wine at the peak of its qualities.
- Balanced whose characteristics are neither too weak nor too marked, harmonious.
- Vented: generally by aeration during bottling; the "vent taste" disappears after a long rest away from the air
- Low: low in alcohol and bouquet
- End: which has a delicate bouquet; we commonly call "fine wine" any AOC wine.
- Fresh-freshness: wine whose good proportion of acidity causes salivation.
- Frank: healthy, without abnormal taste.
- Fruity: whose flavor is reminiscent of grapes, the quality of a good young wine.
- Generous: full-bodied, rich in alcohol.
- Easy to drink: easy to drink; qualifies a light wine, served chilled
- Fat: fleshy, soft and supple.
- Young: who has not reached its fullness, speaking of a wine which must age; at its best, for a wine that should be drunk within 3 years.
- Light: which has a low alcohol content.
- Sweet: very sweet, speaking of a white.
- Ladle: cloudy, hazy.
- Heavy: very alcoholic and without distinction.
- Madeira: oxidized, speaking of a white, which gives it a color and smell reminiscent of Madeira.
- Lean: insufficiently alcoholic, lacking in character.
- Soft: soft and fruity, speaking of a white.
- Nervous: to which a certain acidity gives bite. - New: who is less than a year old, speaking of a red.
- Smooth: full-bodied, soft and fat.
- Pearl: which presents a very light gas release, with a tingling sensation.
- Sparkling: slightly sparkling.
- Pique: which has taken on a spicy flavor, heralding the transformation into vinegar.
- Dish: which no longer sparkles, speaking of an effervescent; lacking in freshness, speaking of a still wine.
- Full: who has body.
- Peacock tail: said of a wine that finishes long and intense in the mouth.
- Racy: who has class.
- Color: wine color.
- Robust: full-bodied and powerful, thanks to a high alcohol content.
- Round: supple, fruity, little tannic.
- Healthy: frank in taste, free from blemishes.
- Dry: unsweetened, almost all of the sugar having been transformed into alcohol by fermentation; is mainly used for whites.
- Dried: which has lost its freshness.
- Supple: little tannin and little acid, speaking of a red.
- Suave: exquisitely soft.
- Stained: white with a very light pink color.
- Tender: young, fresh and light, easy to drink.
- Quiet: not sparkling.
- Tile: which has taken on a brick color (orange), speaking of a red guarded by the age limit.
- Used: which has lost its qualities, speaking of a red that is too old.
- Velvety: soft, soft as velvet
- Green: from insufficiently ripe grapes, which causes abnormal acidity.
- Lively: young, fresh, pleasantly acidic.
- Winey: strongly alcoholic and without finesse.
The abuse of alcohol is dangerous for your health, consume in moderation
The vineyards of the French regions (*):

French wines
(*) Editor's note: For purely oenological reasons, we have kept the old administrative division of French territory, i.e. 27 regions and not 18 as after the regional division which entered into force on January 1, 2016.