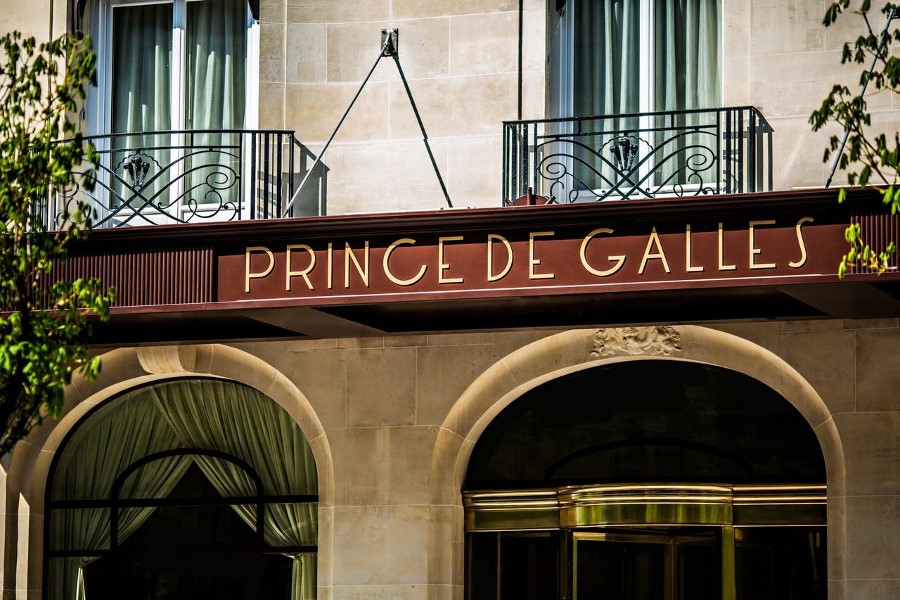 Hotel Le Prince de Galles in Paris : The Prince de Galles hotel is a luxury Parisian hotel, located at 33 of the famous avenue George-V, in the 8th arrondissement of Paris, France. It belongs to the Marriott hotel chain.
Created in 1928, it reopened its doors on May 16, 2013, after two years of renovation which enabled it to obtain on July 24, 2013 the official French five-star label.
2019 has been a rich year for the extravagant new housing in the City of Light (see the Oriental mandarin) and as the end of the year approaches, the Prince de Galles, has entered the world of suites. Created in honor of the hotel's 90th anniversary, the Suite Lalique by Patrick Hellmann is a dazzling two-storey 1 square foot hideaway located in one of the most exclusive areas of Paris.
There are many perks to staying in this new suite, as its eighth-floor location offers breathtaking views of the Parisian skyline from most rooms, including stunning views of the Sacré-Coeur. Inside, the opulent Art Deco aesthetic highlights a different kind of French beauty, thanks to a first partnership with the historic Parisian glassmaker Lalique.
German designer Patrick Hellmann coated the entire suite with a mosaic that was mostly black and gold to give it an Art Deco feel, then layered it on top of textures, such as sculptural coffee tables and blond wood furniture, in order to create a certain balance. Hellmann also selected iconic crystal pieces for the renovation, such as the Seville chandelier - first designed by Marc Lalique in 1947 - suspended above the winding black and gold staircase that leads to the bedroom. .
The signs Blackbirds and Grapes Equally iconic Lalique crystal and chrome are also making an appearance, as is an oversized wall clock that has been deconstructed by Hellmann to showcase a variety of Lalique accessories.
But it's not just Lalique's pieces that elevate this presidential suite. The over-the-top chandelier is in every detail, from the herringbone inlays on marble floors to the framed fashion artwork that adorns many walls to the super-soft textiles that cover headboards and chairs. And don't forget the master bathroom: truly one of the best spaces in the duplex, it's completely covered in veiny grigio carnico (*) marble, going from floor to ceiling with the exception of the postcard window which offers a view of the Eiffel Tower from the freestanding bathtub.
(*) The veiny grigio carnico marble is a historic Italian marble, extracted in " Dolomiti Friulane Natural Park In the north east of Italy.
The rates for the Lalique Suite start at $ 17 per night (approximately 630 euros at the end of 16).