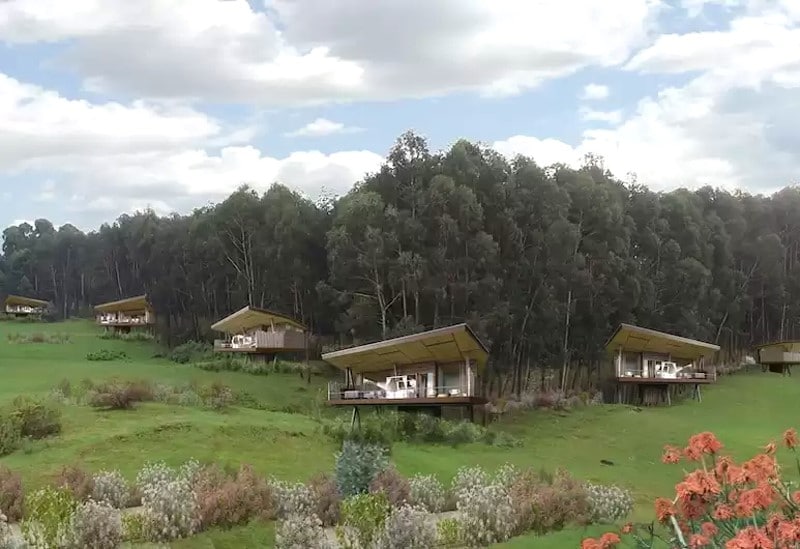 One & Only Gorilla's Nest Rwanda : Rwanda is undoubtedly a very hot destination and One & Only comes into African action with the very luxurious One & Only Gorilla's Nest Rwanda, located just outside the Volcanoes National Park, a unique African wildlife reserve.
Providing guests with the opportunity to meet the very rare mountain gorilla in its natural habitat, as well as have other wildlife and hiking experiences, this intimate resort features 14 lodges and seven one-bedroom designer suites. modern with traditional Rwandan touches, where exotic wood is king.
Each room also has a fireplace and a private terrace with an outdoor shower and a bathroom with a bathtub.
When you are not looking for wildlife, you can enjoy a restaurant serving Rwandan (matooke, ugali, ibihaza) and Western dishes, a fitness center, a spa with hammam and sauna, a plunge pool surrounded by a eucalyptus forest and an outdoor swimming pool on the edge which serves local fruit juices (passion fruit, mango, orange, pineapple, etc.) and on time an aperitif of Rwandan "tapas" accompanied by ikigage, an alcoholic drink made from sorghum.
One & Only Gorilla's Nest Rwanda
Address: Volcanoes National Park
Telephone: +250 252589106
E-mail: reservations@oneandonlygorillasnest.com
Volcanoes National Park - Rwanda