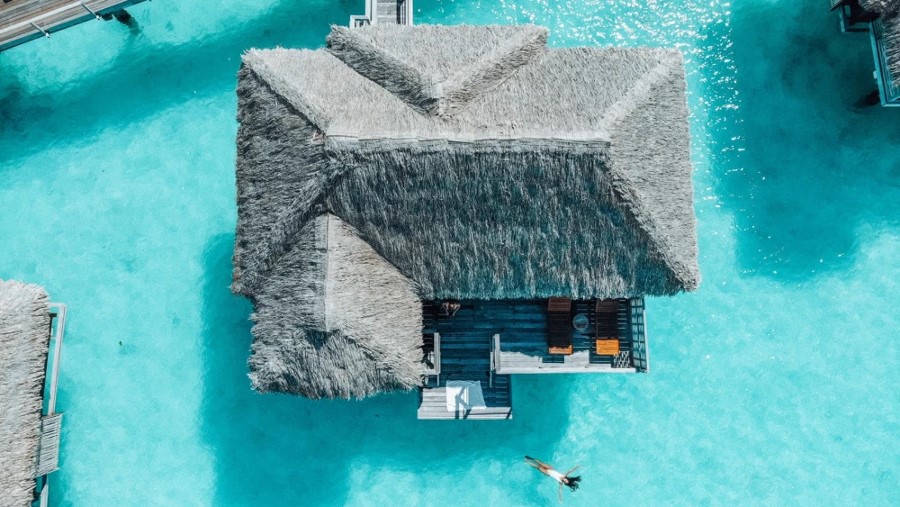 Five luxury resorts in French Polynesia - August 2020
Joining other tropical destinations like the Maldives and some Caribbean islands, French Polynesia and its Tahitian islands reopened to international visitors - including those from the United States of America - on July 30, 2020.
With this re-opening, American travelers will no longer need to fly further afield to enjoy downtime in an overwater villa (a concept born in the Tahitian Islands), although there are still some things to do. do this before you can fully relax.
Among the new rules: passengers will have to have proof of a negative Covid-19 test taken within three days before their international air departure, they will have to complete an online medical registration (and bring the receipts with them) and will be required to self-test again four days after arriving in the islands. Details on Covid-19 health requirements can be found here .
Once there, there is plenty for you to entertain, pamper yourself and also get away from it all socially as much as you want.
In these five first-rate luxury hotels, we have services like shipwreck-like dinners on desert islets, recently renovated residences with butlers and private chefs, Polynesian-inspired spa treatments and even partnerships with flights. in private jets to ensure trips are both smooth and cocooning.
Sustainable tourism model, the brando, LEED (*) Platinum certified, is a private all-inclusive island resort located in the 12 motu (**) atoll of Tetiaroa, approximately 20 minutes by flight from the main island of Tahiti. Check into one of 35 one, two, and three-bedroom villas dotted around a lagoon, or the 3000-square-foot beachfront Brando Residence, which debuted in 2019 and features three rooms - each with its own pool and patio - plus a dedicated butler and private chef. (Three more residences will be built over the next three years.)
(*) LEED: Leadership in Energy and Environmental Design (LEED) is a North American system of standardization of high environmental quality buildings created by the US Green Building Council (en) in 1998, similar to similar to High environmental quality in France. A building can achieve four levels of certification: silver, gold or platinum.
(**) Motu: name of bungalow or villa on stilts, a Tahitian concept.
Guests of all accommodations can take advantage of resort amenities like gourmet restaurants (with ingredients sourced from the island's organic farm), a fitness center and spa offering Polynesian-inspired treatments and activities such as snorkeling, canoeing, tennis and scuba diving. You can leave the island to take an atoll tour led by a naturalist, then learn a little more about the resort's environmental efforts at a talk given by EcoStation scientists on site.
Villa rates start at € 3300 (approximately $ 3782) for two adults and all children under 12; the Brando Residence starts at € 15 (approximately $ 000) for up to six adults. Rates include all meals, most drinks (including some alcoholic options), one excursion per person per day, one dedicated bike per guest, a set number of spa treatments, and more.
Four Seasons Resort Bora Bora
Located on a private island of 220 hectares accessible only by boat or helicopter, the Four Seasons Resort Bora Bora has recently unveiled upgrades to its 108 one- and two-bedroom overwater bungalow suites, 27 of which now have private plunge pools, while the seven have three-bedroom beachfront properties - which come with perks like outdoor kitchens or bathrooms. Private infinity pools - are also being upgraded (one unit is currently complete). The new private air transport option of the complex, with which we will fly to Bora Bora in a Gulfstream G650 (accommodating up to 13 passengers), and its partnership with the Private Suite terminal at LAX (which offers Four Seasons Bora Bora guests special rates on Private Suite reservations and memberships.)
Once there, you enjoy the peace of mind of Four Seasons' Lead with Care health and safety procedures, more contactless services, and the resort's ability to privatize all activities, from diving adventures from snorkeling and diving to dinners on the beach with musicians and fireworks - and even castaway meals on a desert motu. French, Asian and international restaurants, a spa with overwater treatment suites, volleyball and badminton courts and more complete the five-star experience.
Overwater bungalow suites start at € 975 per night (around $ 1119), while beachfront villas start at € 5500 per night (around $ 6314).
Taha'a Island Resort & Spa in Tahiti
A long-time favorite in the region, the Taha'a Island Resort & Spa - the only member Relais & Châteaux of the Tahiti Islands - occupies a private islet overlooking Bora Bora on one side and the island of Taha'a on the other. Resort boats can transfer guests from theRaiatea airport (it's a 35 minute ride), but for a truly memorable experience (with stunning views), take a 14 minute helicopter flight from Bora Bora to the resort's helipad.
Once there, we discover 58 suites and villas scattered around the islet; among them, villas by the sea with private swimming pools and three categories of suites on stilts. The most privacy will be found in the End of Pontoon Overwater Suites, which can accommodate three adults or two adults and one child under 13, and offer direct access to the lagoon, outdoor showers and the memorable sunrise. Elsewhere on the lush grounds are three restaurants, two bars, a tennis court, a main pool, and a spa that draws inspiration from Polynesian healing traditions. Activities like snorkeling, paddleboarding and kayaking can be practiced around the resort's lagoon, while off-island excursions like ATV rides, jet ski tours, fishing and boat trips. boat and tours to nearby islands can be arranged.
Rates for the End of Pontoon Overwater Suites start at $ 1 per night. The resort is currently offering a 756% discount on stays of three or more nights.
InterContinental Bora Bora Resort & Thalasso Spa
InterContinental establishments in French Polynesia were among the first to bring international luxury to the islands, and while the Covid-19 crisis unfortunately resulted in the permanent closure of the brand's iconic resort on theisland of moorea, there are still other options to check out - including the InterContinental Bora Bora Resort & Thalasso Spa, which houses the first thalassotherapy spa in the South Pacific. In addition to the Deep Ocean Spa, which specializes in marine mineral and seawater treatments, there are six bars and restaurants for everything from sunset drinks to themed dinners.
You should also simply enjoy at least one signature canoe breakfast, during which a hearty morning meal will be delivered to your villa on stilts by an outrigger canoe.
Accommodation choices include 84 overwater villas, each with a 30 square meter outdoor terrace with outdoor freshwater shower and direct lagoon access; the glass bottom indoor coffee table also acts as a window to the marine life below. In 2017, the resort launched an exclusive partnership with private resort The Brando to offer the Brando Bora Bora Suite, a 310 square meter retreat with outdoor pool, over 90 square meters of outdoor space and living and dining areas. catering; the Brando Suite can be booked either as a two bedroom option, accommodating up to four adults and four children, or as one bedroom, for three adults or two adults and two children.
Prices for the Brando Bora Bora Suite start at € 3 (approximately $ 400) for the one-bedroom configuration and € 3 (approximately $ 909) for the two-bedroom option.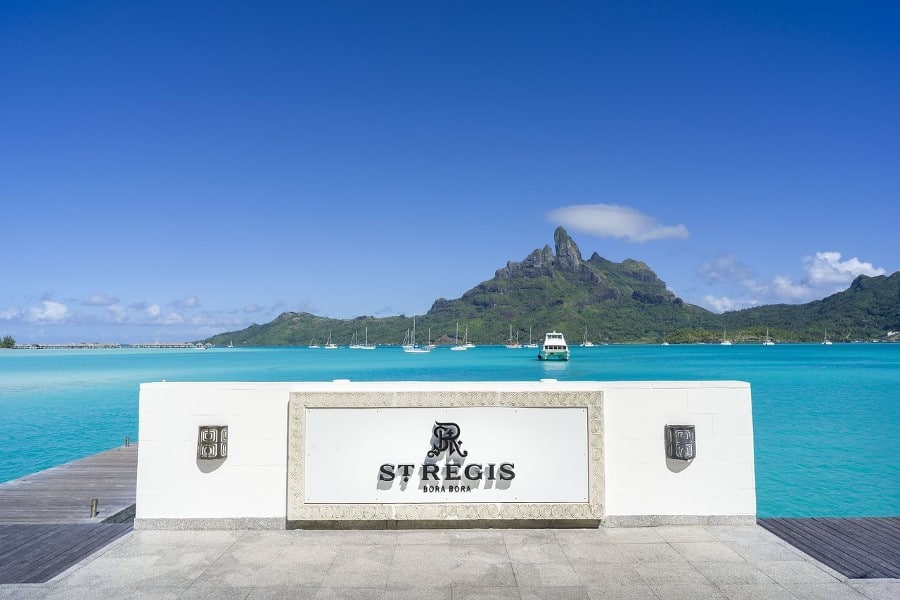 New health and safety protocols - including things like disinfecting baggage upon arrival at the airport and assigning previously shared equipment like bikes and snorkeling gear to a guest per stay - were put in place when the St. Regis Bora Bora reopened on July 23, 2020. There are also recent renovations to the very spacious overwater villas (many now have new interiors designed by a Paris-based interior designer), as well as resort signatures such as the chic villas in seaside, the 13000 square foot Iridium Spa (located on its own island), Chef Jean-Georges' Lagoon restaurant and St. Regis Butler service for all guests. For the ultimate in privacy, check-in at the Royal Estate, the newest 13000 square foot accommodation that features a swimming pool and sun deck, a personalized kitchen by a dedicated chef, three bedrooms, two living rooms, a patio at sunset and a private beach overlooking the Mount Otemanu.
Rates for the Royal Estate start at $ 17 per night.