Hilton (NYSE: HLT), one of the largest luxury hotel groups in the world, has a portfolio of 18 brands of excellence comprising more than 6 establishments and more than one million bedrooms in 118 countries and territories. Dedicated to its vocation as the world's most hospitable company, Hilton has welcomed more than 3 billion customers in its more than 100 years of existence, earned a place on the list of the best companies to work for at world in 2020 and was named the 2019 Global Industry Leader on the Dow Jones Sustainability Indices. In 2020, the company launched Hilton CleanStay, introducing an industry benchmark standard for cleanliness and disinfection in hotels around the world.
Thanks to the award-winning loyalty program Hilton honors, the more than 110 million members who book directly with Hilton can earn points for never-before-seen hotel stays and experiences, as well as immediate benefits like contactless check-in with room selection, digital key and a connected room.
Official website of hilton group
The 10 new openings of the Hilton group around the world for 2021:
1. The Faroe Islands, Denmark - Hilton Garden Inn Faroe Islands
This remote archipelago is already a world leader in sustainable tourism. The Hilton Garden Inn Faroe Islands hotel was built around sustainability. In line with the island's sustainable growth strategy, the hotel is powered by waste energy from local industries and has low-water showers and smart lighting to further reduce its footprint. Located just minutes from the stunning Svartafoss Waterfall, Nordic House, and the Faroe Islands National Museum, guests won't have to travel far to begin their adventure. Open now, travelers can also take advantage of the hotel's wellness complex - one of the islands' first - which includes a sauna, outdoor jacuzzi, and 24-hour fitness center.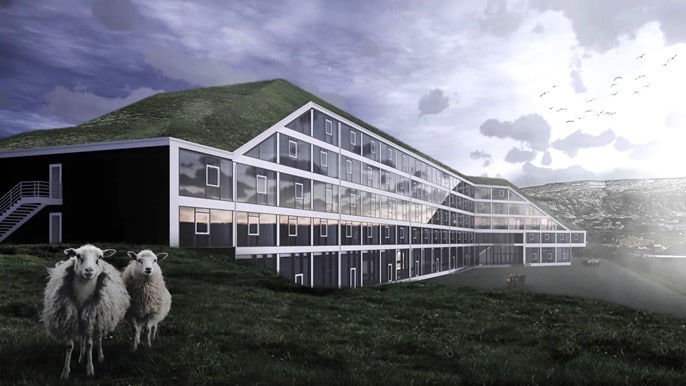 2. North of Wales, UK - Hilton Garden Inn Snowdonia
Located within theAdventure Park Snowdonia Offering breathtaking views of the North Wales mountains, this new opening is a must visit for thrill seekers and adventure seekers. The Hilton Garden Inn Snowdonia, scheduled to open in March 2021 alongside the park's new Wave Garden Spa, will be the perfect place to indulge in adventure and relaxation. Locally sourced food and beverages are served at the restaurant and bar from the hotel for those who want to take a break.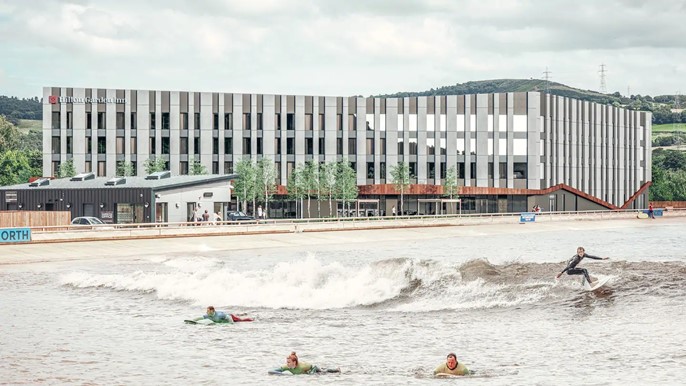 3. London, UK - Canopy by Hilton London City
As UK travelers continue to explore the richness of their country in 2021, Hilton will launch its lifestyle brand in the UK, with the opening of Canopy London City in Aldgate in early 2021. The 314-room hotel has interiors inspired by the close and elegant City of London and by the energetic East End. A rooftop bar will offer stunning city views, and guests will receive a capital-inspired welcome gift, along with free artisanal breakfasts.
4. Kyoto, Japan - LXR Hotels & Resorts, Roku Kyoto
With the Tokyo 2020 Olympics postponed to 2021 and Kyoto a two-hour train ride from the capital, Japan's cultural heart is preparing to welcome international visitors. Located in an area home to some of the region's most idyllic Japanese gardens, historic architecture and authentic teahouses, Roku Kyoto will be the first opening in Asia under Hilton's luxury brand LXR. Open in the second half of 2021, the resort will offer a luxurious and refreshing stay with gourmet dining and spa treatments paired with natural hot springs.
5. Seychelles - Mango House, Seychelles, LXR Hotels and Resorts
As travelers seek peace and quiet in remote locations away from the crowds, Indian Ocean destinations will remain at the top of the must-see list. Originally built as a family home, Mango House Seychelles offers 41 tastefully designed guest rooms in a secluded and private location. This exclusive resort, scheduled to open in early 2021, will offer its guests breathtaking views of the Indian Ocean. It is the ideal place to explore Mahé's white sand beaches and the kaleidoscope of its flora and fauna. Seychelles, where sustainable tourism has become a priority for a large number of guests, offers a year-round vacation sanctuary for the world's most discerning travelers.
6. Dubai, United Arab Emirates - Hilton Dubai Palm
Holidaymakers seeking winter sun can choose from over 20 Hilton Group hotels in Dubai. The Golden City will once again be in the limelight when it hosts EXPO 2020 to be held next October. Designed to open at the same time, the new Hilton Dubai Palm sits on the main trunk of the iconic Palm Jumeirah, which overlooks the sparkling waters of the Arabian Gulf. The spacious resort-style rooms and suites allow guests to unwind after a day at the beach, and travelers can enjoy amenities ranging from a full spa to renowned restaurants and bars.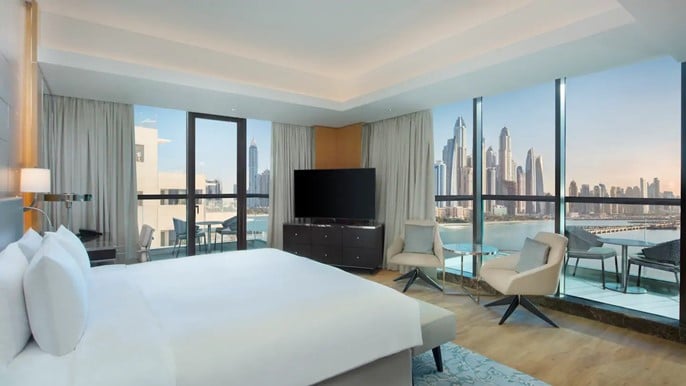 7. Paris, France - Canopy by Hilton Paris Trocadéro
Emily in Paris has left travelers fantasizing about the French capital and stays in European cities should be high on travelers' agendas once restrictions are relaxed. Canopy by Hilton Paris Trocadéro is slated to open in early 2021. This 123-room hotel with period architecture and elegant Parisian touches will give guests the impression of staying in a historic apartment in the area. Located in the 16e district of Paris, this neighborhood hotel is located just two kilometers from the Arc de Triomphe, the Trocadéro gardens and the Champs-Élysées. It has a rooftop and a bar with a breathtaking view of the Eiffel Tower.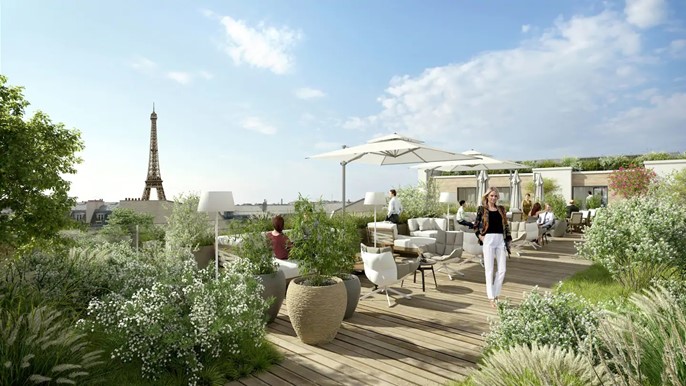 8. Rijeka, Croatia - Hilton Rijeka Costabella Beach Resort and Spa
Sunny getaways are set to be a hit this year as sanitary restrictions ease, with vacationers seeking a vitamin D cure at resorts designed for wellness. Nestled on the Adriatic coast and open in spring 2021, the new Hilton Rijeka Costabella Beach Resort & Spa is a beachfront wellness center, complete with a spa, health club and Olympic-size swimming pool. Guests have access to a private sandy beach and six on-site restaurants, including a beach bar and a rooftop restaurant with Adriatic views.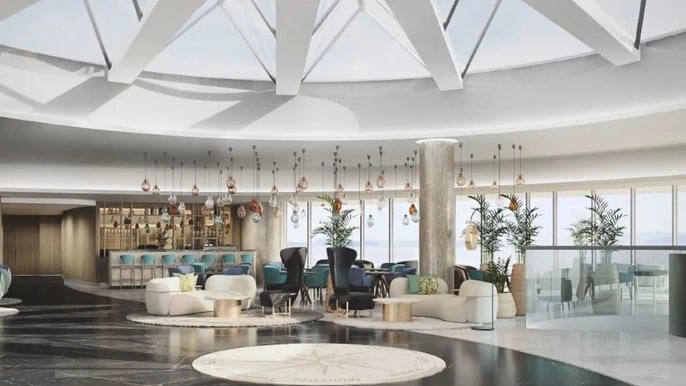 9. Lisbon, Portugal - Emerald House Lisbon, Curio Collection by Hilton
The number of visitors to Lisbon has been on the rise for more than ten years and the Portuguese capital has become one of the hotspots of European culture. Opened in 2021, Emerald House Lisbon is within walking distance of most of the city's main attractions and the historic districts of Chiado and Baixa, known for their vibrant restaurants, shops and local culture. The 67-room hotel will feature an interior that reflects this elegant neighborhood, a health club, restaurant and bar for the enjoyment of guests and locals alike.
10 Las Vegas, United States of America - Virgin Hotels Las Vegas, Curio Collection by Hilton
With casinos reopening slowly, travelers are hoping to be able to return to Las Vegas this year. Hilton is slated to open two resorts in 2021, and Virgin Hotels Las Vegas, a 1-room property under the Curio Collection brand, slated to open in early 500. This desert resort has no less 2021 world-class restaurants, a 12 square foot casino, outdoor pools and a day spa. Scheduled for late 60, the highly anticipated Las Vegas Hilton at Resorts World, which will include 000 rooms, will include the Las Vegas Hilton at Resorts World, Conrad Las Vegas at Resorts World and Crockfords Las Vegas, LXR Hotels & Resorts, and is the largest multi-brand operation in Hilton history. The integrated complex will include a games room, several nightclubs, a spa, a swimming pool, unparalleled dining experiences and many other unique experiences.