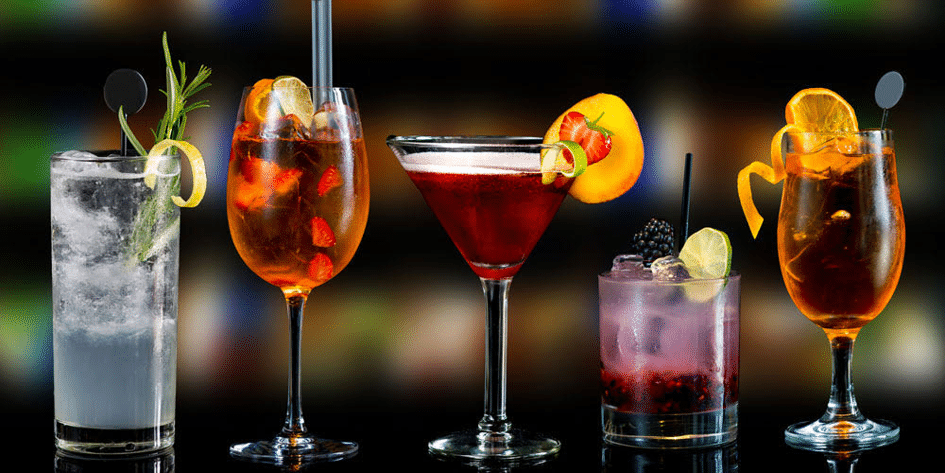 Cocktail : A cocktail (which can be spelled cocktail au Quebec), is a mixture of drinks and elements aromatics and decorative in variable quantity. They often containalcohol, but very many receipts are devoid of it.
When the mixture of a cocktail is prepared and packaged for commercial purposes other than immediate consumption, it may be subject to regulation. We will then speak of premix. mistelles neither are cocktails.
History of the cocktail
Cocktails spread at the end of the 1920th century, in England and the United States of America. Their consecration came during Prohibition in the United States of America in the XNUMXs: adding another drink masked the taste of poor quality contraband alcohol.
Until the 1970s, cocktails were mostly made from gin, whiskey and rhum, more rarely based on vodka. In the early 1980s, the vodka is the most common base for cocktails, often replacing gin.
Reception: The term also designates, by metonymy, a reception during which drinks, including cocktails, are served. the cocktail in France, formerly called cocktail party, is a reception, where guests usually stand, unlike a dinner square. This reception usually begins around 19 p.m. and precedes the dinner, if there is one, and never replace it. Drinks are accompanied by Petit fours, savory ou sweet, sometimes of canapés, biscuits dry, or peanuts, and various dry mixes. We sometimes organize a buffet, or a bar, where you can help yourself. Guests are also served by servants bringing trays, when it comes to a reception formal.
Etymology of the word "cocktail"
By direct translation from English, cock means "rooster" and tail means "tail". Several theories, all more or less plausible, are in contention to explain the origin of the word. For example, "cocktail" would come from the contraction of peacock tail (in French: "queue de paon"), given its color. The most common explains that the tail of draft horses was tied to braid it, but not in thoroughbreds. The term cocked-tail (literally "braided tail"), which designated such horses, then evolved, taking the more general meaning of "doubtful", "bastard", to finally designate a drink made from mixtures.
Others say that it was customary to place a feather (presumably a feather of coq), in a drink, to serve as a decoration and to indicate the presence of alcohol. It is also said that the English word would be a deformation of the French word " egg cup ", Which would have been used as a container to serve cocktails at New Orleans, at the beginning of the XNUMXth century.
Some place the origin of the word at Mexico : Coctel was the name of a princess whose father made mysterious mixtures. The French writer and novelist Boris Vian (1920-1959) also proposed the spelling "coquetèle".
According to another legend, the daughter of an American cabaret-keeper who, having lost her coq with so colorful tail, offered a beverage to the man who found it, and baptized this drink cocktail ("tail of coq "). Some eccentric philologists go so far as to imagine, in this word, the alteration of Xochitl, name of an alleged Aztec princess (*), creator of fabulous beverages.
(*) The Aztecs, or Mexicas, were an Amerindian people of the Nahua group, that is to say of the Nahuatl language. They had settled definitively in the central plateau of Mexico, in the valley of Mexico, on an island in Lake Texcoco, towards the beginning of the fourteenth century.
Finally, the latter place the origin of the word in a context of charm and seduction. Indeed, by tradition a cocktail is drunk only through a straw, and is reserved for the fairer sex, a show offering all their fantasies to the imagination of men. We call Virgin Cocktail ("virgin cocktail"), or mocktail (portmanteau of mock, "fake", and "cocktail"), a cocktail without alcohol.
According to the bartender of Antoine's Restaurant, New Orleans (main city in the state of Louisiana in the United States of America), the word cocktail would come from the fact that a French barman was serving a drink, Bitter, in an egg cup with two handles, and that the English did not understand the word "egg cup" (pronounced little near "cocktail" at the time), would have included cocktail.
Cocktail vocabulary
The preparation of cocktails has its own vocabulary. Some terms of English origin have no French equivalent.
Stir: term for the action of mixing in a mixing glass with a mixing spoon.
Mixing spoon: long spiral spoon used to stir mixtures. It is an essential tool which serves to stir to the bottom of the glass. Its back also helps to slow the flow of pouring alcohol into a mixture that should not be disturbed.
Torch: plastic tube used to suck up liquids. Synonymous with straw, the blowtorch is slightly larger and used for cocktails.
Dripping bottle: bottle fitted with a device for pouring small amounts of liquid.
Flair bartending or "bar juggling": art of juggling with the objects available to the barman (bottle, , fruit...).
Hit: mix in a shaker containing the preparation and ice.
Frost: dip the edge of a glass in lemon juice, then in sucre or salt.
Mix, or mix: mix several ingredients using a electric robot.
Mixology: term designating the action of creating new cocktails by a mixologist, a marketing term of Anglo-Saxon origin (mixology) which has made it possible to revive the public and students' interest in the profession of bartender. The mixology molecular is a technique born from the contribution of molecular cuisine to the art of cocktails and developed from a symposium organized in Paris, in 2005, by the distiller Bols.
on the rocks (Anglicism), or on ice (ice Cube): means that the cocktail is served on whole ice cubes previously placed in the serving glass.
Cocktail strainer: strainer designed to filter the waste from a preparation, before pouring it into the serving glass.
Shaker (Anglicism), or a cocktail maker: utensil used for the preparation of cocktails; it consists of a metal cup and a lid. With a capacity of 50 cl, it is used to mix and refresh the cocktail.
Line: (in English: dash) measuring term representing 3 to 5 drops (from lemon juice, ofangostura...).
Tumbler: large glass with straight edges from 20 to 25 cl, used for long-drinks.
Cocktail glass: long stemmed glass with flared container, 7 cl; double cocktail glass: glass with a capacity of 9 cl with a long stem, and with a flared container (commonly called a martini glass).
Mixing glass: glass for preparing certain cocktail bases. It is a first glass used before the serving glass, in which the liquids are poured before mixing them with a mixing spoon.
Shot glass: small glass containing 5 cl to 10 cl, generally containing a cocktail that should be drunk all at once.
The term "great classic" is applied to all cocktails recognized by the International Association of Barmen (International Bartenders Association).
Large cocktail families
It is possible to distinguish two main categories of cocktails: long drinks (Anglicism), or "long drinks", long drinks of 12 to 25 cl (aperitifs and others); short drinks (Anglicism), short drinks of 7 to 10 cl (aperitifs, digestives).
They are themselves divisible into subcategories.
Long-drinks:
Cobblers : long drinks prepared in a tumbler filled with ice, based on wine or spirits.
Coolers (Anglicism) or "wine coolers" or "uval drinks" : elongated drink based oncalvados, fruit juice, sucre ; prepared in a mixing glass, then extended by sparkling wine.
The collins : refreshing long drinks, prepared in a tumbler. All eaux-de-vie can be used with sucre, lemon juice and soda.
Cups : long-drinks based on fruit, sugar and liqueur and supplemented with sparkling alcohol, wine or soda when ready to serve.
Passionate red cocktails : long-drinks made from small Red fruits (strawberries, raspberries, gooseberries, blueberries...), from lemons, vodka, Orange juice and mint fresh.
The Egg Nogs (Anglicism), or the " eggnog » : hot or cold long drinks, prepared with a œuf, sucre, alcohol basic and supplemented with Milk sprinkled nutmeg.
The Fizzes : long drinks prepared in a shaker with sugar, the juice of a lemon, alcohol basic and lengthened with soda.
Grogs : hot long-drinks based on alcohol and a hot non-alcoholic liquid.
The High Balls, or the "whiskey-sodas" : long-drinks composed of a base alcohol extended with a soda.
The Juleps : long drinks made with fresh mint and a base alcohol prepared in a glass filled with ice.
Short drinks:
After-dinners, or "cocktail-digestifs" : all mixtures based on digestive liquor.
The Daisies, or the "daisies" : short drinks prepared in a shaker based on: a dash of grenadine, the juice of half a lemon and a base alcohol, supplemented with a soda.
The Flips : mid-length drinks that can be served hot or cold, prepared in a shaker. Made with wine, egg yolk and sugar.
The Shooters, the "culs-secs", or the "swipes" : cocktails of a few centiliters of strong alcohol drunk all at once.
The Sisters : short drinks made with sugar and lemon juice, plus basic alcohol.
The Fixes, the Hot buttered, the Mulls, the Punches, the Pousse café, the Sangarées, the Slings, the Smashes, the Toddies, are appellations having only one historical aspect.
Presentation, decoration
The presentation of the cocktail is the final touch of its realization. For this, the barman has several techniques allowing him to enhance his achievement. It can play on the mixture of liquids of different densities, to obtain a rainbow effect in the glass. It can frost glass, using, for example, salts (plain salt ou celery salt) Of the cacao, sugar. He adds utensils, more or less useful, such as small parasols, a straw, a mixing spoon, a stirrer. He sprinkles cocktails sparkling byspices, chocolate, sucre or decorate the edge of the glass with parts de fruits : lemon, mandarine, Orange, lawyer,…
It can also add to the glass fruits and/or vegetables : olive, onion, apple pieces. He can also vary his choice of container: coconut, personalized glasses ... and complete the presentation by posing mini skewers of fruit on the edges of the glass.
Lovers of bartending flair see it as an art.
The cocktail can be made smoky by adding a drop ofliquid nitrogen, it is then imperative to wait until this nitrogen is completely evaporated, because it can cause serious burns by cold.
Literature and cocktails
Several writers have devoted books to cocktails, sometimes giving an inventory of recipes:
The Captain Cap, his adventures, his ideas, his beverages, by the French writer Alphonse Allais (1854-1905), which contains a catalog of cocktails which include, among others, the Cosmolitan Claret Punch and the Brandy shanteralla.
The American novelist Ernest Hemingway (1899-1961), where cocktails are present in many works, and who even gave his name to Hemingway Daïquiri, a variant of the mojito.
Sonates de bar, by French writer Hervé Le Tellier (1957), which offers nearly a hundred recipes in the form of a short short story.
Personalities: Jerry thomas, born in 1830 in Connecticut, however played a role in the promotion of cocktails. He rose to fame and devoted his life to making them known in America. He created two, which have remained famous: The Blue Blazer and the Tom and Jerry. He wrote the first cookbook, in 1862, entitled Bon Vivant's Companion.